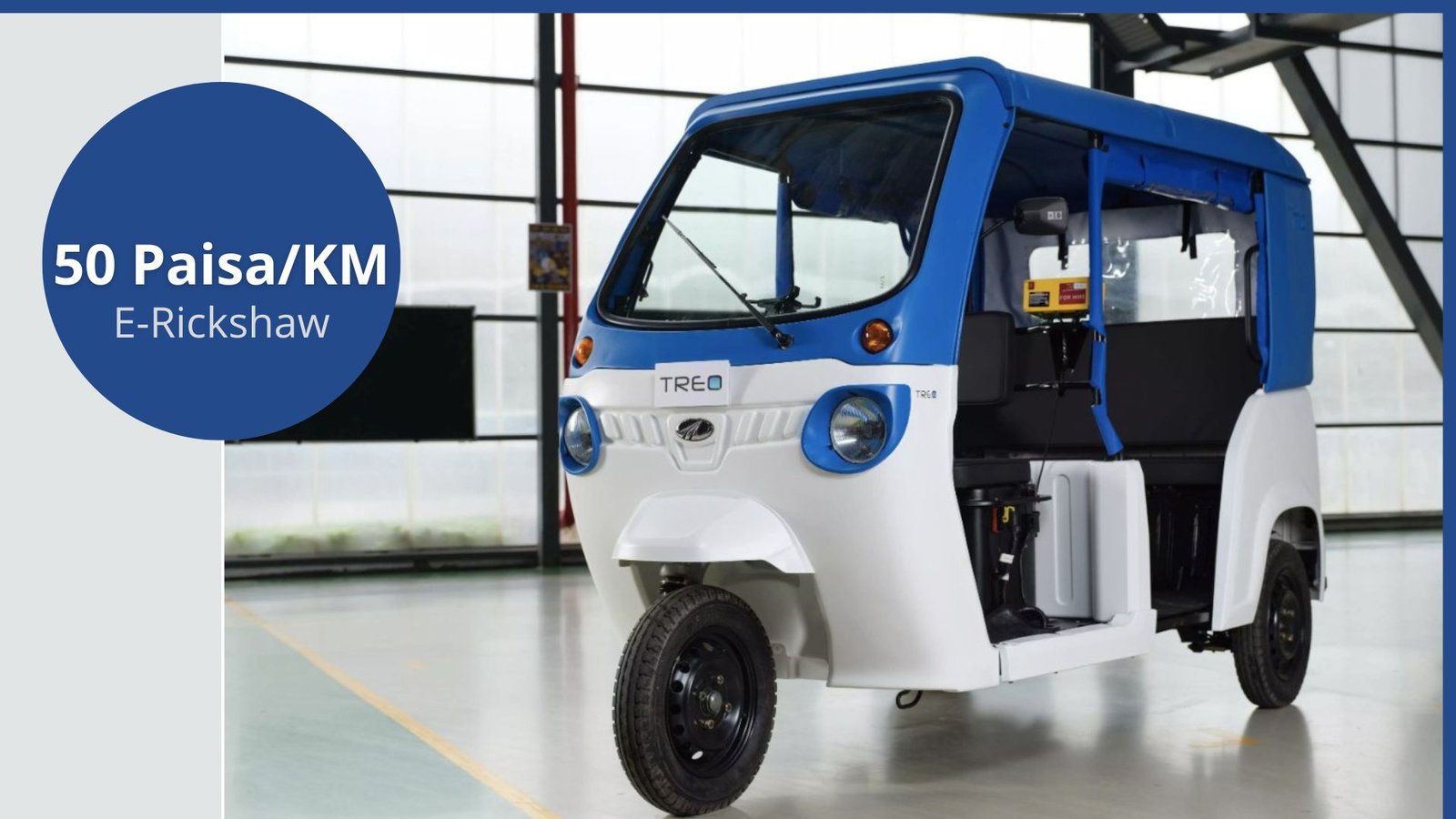 Electric mobility has reached its peak in India in the last few years.
Talking about electric two-wheelers, and electric four-wheelers, both of them have made huge growth in India. But now the electric three-wheeler is also not behind in this list. In recent times, more than 20+ electric three-wheeler has been launched in India. Mahindra Electric has been a big name in these launching top EV companies.
Mahindra Passenger Electric Rickshaw in India
Mahindra Electric is a well-known electric vehicle manufacturing company in India. It tops the list of the largest electric three-wheeler manufacturers. The company has so far launched many types of electric three-wheelers Like- Treo Auto, Treo Zor Delivery Van, Treo Tipper Variants, and e-Alpha Mini Tipper.
Today we will talk about Mahindra Treo Electric Rickshaw, its on-road price, range, and full features.
---
The Mahindra Treo E-Rickshaw was launched by Mahindra in the Indian market in December 2021. The company launched in Maharashtra and since its launch, it is by far India's top electric three-wheeler. Mahindra believes that this helps customers save 2,00,000/- (2 lakh) over five years due to its very low running cost.
It comes with a great look and includes great features
Available in two variants – This electric Rickshaw is available in the market in two different variants, it has two variants.
Mahindra Treo 3-Seater / SFT

Mahindra Treo 3-Seater/HRT
Mahindra Treo Features
Let's talk about the features of this wonderful Electric Rickshaw.
Higher Savings – the low running cost of only 50 ps/km. With this, you save Rs 45,000/- annually in the form of reality.

Gradeablity – High Gradeability of 12.7 degrees. Due to this, it can easily climb on high places like Height or Flyover.

Long Wheelebase – Longest wheelbase of 2073 mm. Due to this sufficient space is available in the pro as well as it is easy to climb and descend.

Excellent Safety – Being IP67 certified, protects the battery and motor from dust and water.

Wind Screen & Wiping System Spare Wheel Provision Driving modes – LMH (Low Medium High) Speed Lockable Glove Box Grab Handles 12V Socket Hazard Indicator Telematics Unit & GPS
Side Doors

Cloud-Based Mobility Platform

Cutting-edge modular design

Global Battery Technology

Driver & Passenger Comfort

King Size Space
So these were the great features found in this Electric Three-Wheeler.
Mahindra Treo Specification
Now let's talk about its Battery, Motor, Range, and Speed.
| | |
| --- | --- |
| Battery Pack | 8 kWh |
| Battery Type  | lithium-ion battery |
| Max. Torque | 42 Nm |
| Acceleration | 0-20 km in 2.3 sec |
| Charging Time  | 3 hours and 50 mins |
| Top speed | 55 Km/ph |
| Range | up to 170 Km in Full Charge |
Battery Pack – 8 kWh lithium-ion battery pack.

Max. Torque – 42 Nm

Acceleration – 0-20 km in 2.3 sec.

Charging – Can also be charged from a 16A socket via an onboard portable charger.

Top speed – 55 Km/ph

Riding Range – This Electric Three-Wheeler provides a certified range of up to 170 Km/Charge and a driving range of up to 130km on a single full charge.
Mahindra Treo Price in India
Talking about Mahindra Treo Electric Rickshaw prices in India, its price may vary from state to state depending on the state subsidy. This electric passenger rickshaw is available in two variants, the prices of its different variants are as follows:
| | |
| --- | --- |
| Variant | Price |
| Mahindra Treo 3-Seater / SFT | ₹ 2.88 Lakh (Ex-Showroom)  |
| Mahindra Treo 3-Seater/HRT | ₹ 2.98 Lakh (Ex-Showroom)  |
Talking about the on-road price of Mahindra Treo, it is around Rs. 3 lakh to Rs. 3.15 lakh in India.
So here was all the quick information related to Mahindra Treo price, range, and features. If you want to book this e-rickshaw, then you can book it by visiting the official website of Mahindra Electric.